WATER STICKS portable water softeners are made of PVC (strong, durable and inexpensive) instead of SPUN FIBERGLASS which keeps their cost low. They are designed to soften your water to remove minerals like calcium and magnesium (the CAR WASHING WATER SOFTENER AND DEIONIZER (for washing cars,boats, motorcycles, airplanes and RV's (recreational vehicles) also removes "Total Dissolved Solids" in the water for SPOT FREE vehicle washing. All WATER STICKS are easily hooked up between two sections of garden hose (the SHOWER WATER SOFTENER installs in place of your existing shower head) and can be used in any position. When the WATER STICKS stop doing their job, YOU can easily regenerate them with plain table salt! No expensive Chemicals, Filters, or Cartridges to replace!

Unlike conventional water softeners which must stand upright to avoid losing their resin beads (contaminating your water tanks, heaters & lines), RV (RECREATIONAL VEHICLE) WATER SOFTENERS can be used in any position, in either direction and accidental water back flow can not cause any damage to your water system.
Water Stick, Softener, water softener, deionizer, deionized, soft, washing, car, recreational
vehicle, soap, clean, rinse, water filter, hard water, salt, soften, softened, ship, vessel, marine, RV, wash, portable, boat, automobile, car,
recreational vehicle, ion exchange, sodium chloride, PVC
RV WATER SOFTENER

MINI RV WATER SOFTENER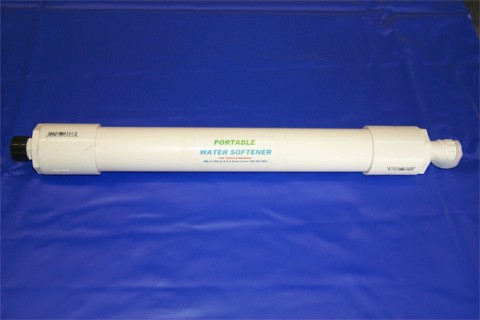 CAR WASHING WATER SOFTENER AND DEIONIZER

NO TOWEL DRYING!

NO SPOTS!

NO STREAKS!

NO CARTRIDGES TO REPLACE!

NO CHEMICALS TO BUY!

GUARANTEED!
SHOWER WATER SOFTENER